Hello and welcome to the first Nathan Schaffer Photography newsletter!
Thank you for your interest in my artwork and the stories behind each photograph. Art is more than a sculpture or picture. Art tells a story, inspires emotion, and allows us to see the world from a different perspective. I am excited to show you the world through my lens. This newsletter will focus on my adventures and artwork while making sure you're the first to learn about new pieces, promotions, and giveaways. Please continue with your interest and invite your friends and family to sign up as a contact on my website, www.schafferphoto.com, so they may join in the adventure.
We live in a world where information is abundant, and distractibility is high. Our brains have an attention muscle that wakes up strong each morning but gets more tired with every decision and action throughout the day. Why am I telling you this? Because it relates to us all and science proves that ART can help.
Attention Restoration Theory (ART) teaches us that things in nature attract our attention effortlessly. A walk in the park, a hike in the mountains, and a trip to the beach provide relaxing breaks for our brains. Photographs of nature, especially those that include water, can provide cognitive relief when we don't have an opportunity to step outside. Check out my photos on www.schafferphoto.com and you'll see a variety of pictures that can help restore attention when displayed throughout your home or business.
Pictured here is a newly added photograph called Florida Shorebirds. I took this photo at Siesta Key Beach, Florida in 2018. Siesta Key is located on the Gulf of Mexico near Sarasota, Florida. The sand is like powdered sugar. Imagine the sensation on your feet and toes as you walk on a cloud. Not many beaches can compare to this quality of sand.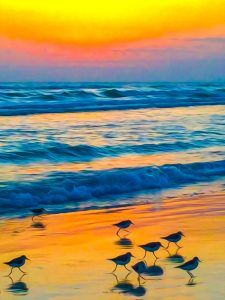 While enjoying a gorgeous sunset, I noticed a group of small birds scurrying around ahead of each surging wave. The site of these Sanderlings instantly brought a smile to my face. I watched them while they played like children enjoying their first time at the beach. I envisioned my little girl doing the exact same dance along the shore. These small birds had obsessive wave-chasing habits that rival world famous surfers. If fact, these shorebirds fly thousands of miles from the Arctic Tundra to live on sandy beaches during the winter. Just like us, they travel great distances to go somewhere warm, play in the waves, and have fun on the beach.
I love this photograph because it ignites a sense of joy. Florida Shorebirds was created to help the viewer feel at peace and inspire mindful happiness. What feelings does my newest piece of art evoke in you?
Sincerely,
Nathan Schaffer