The Journey Volume 4: Golden Gate from Marshall Beach
Hello and welcome to the latest Schafferphoto adventure!
Recently, I traveled to California in search of a beautiful location to share with my followers. What I found was a secluded and breathtaking hideaway in San Francisco called Marshall Beach.
My adventure started at the top of steep cliffs overlooking the vast Pacific Ocean in the Golden Gate Recreational Area. The parking lot is surrounded by numerous abandoned military batteries that formerly housed artillery needed to watch over and protect the bay area. These impressive sights nearly distracted me from my objective of finding the gorgeous and hidden beach. As I followed the path, my excitement grew with every step. I located a safe path and descended down the sharp, half-mile-long trail to the water's edge, all the while being mindful of the return hike back up the towering cliffs. When I stepped foot on the beach, I was thankful for studying tide charts and preparing for conditions prior to embarking on the adventure. The base of the cliffs was breathtaking and heightened all of my senses. The sound of the tide, the smell of the ocean, and the view of the coastline is indescribable. Suddenly, I was removed from the city, out of the traffic, and transplanted into a surreal and beautiful location.
My piece of art, Marshall Beach, brings to you a stunning view of Golden Gate National Recreation Area, the Marin Headlands, the impressive Golden Gate Bridge, and even a lone sailboat. I created this piece in black and white, highlighting the famous bridge in color, and used a slight oil paint effect, all in an effort to increase the dramatic feel of the magnificent scene.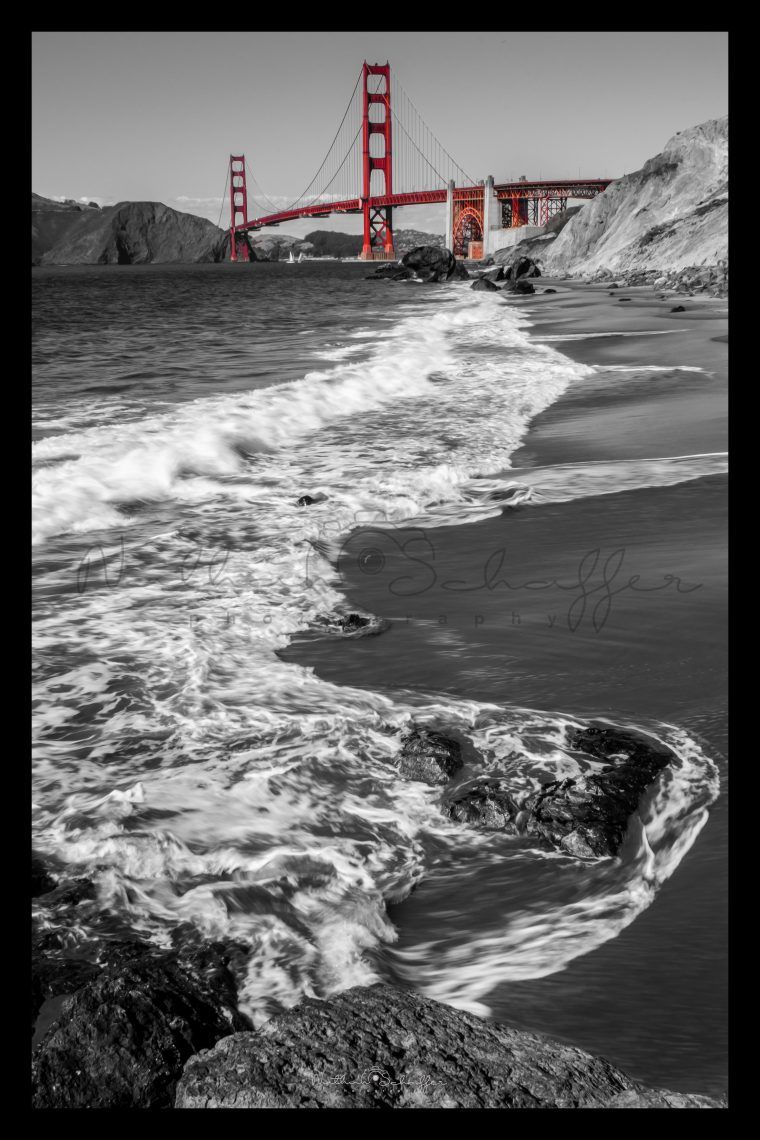 Thank you for following along on my latest adventure! I hope you enjoy my newest creation.
Sincerely,
Nathan Schaffer